About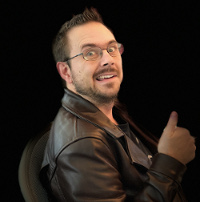 $ whoami
---
I am a software Developer currently living in the awesomeness that is Austin Texas. I try to build awesome things (some software, but mostly hardware projects these days). Other than building stuff I keep occupied with teasing my dog, West Coast Swing, and helping out at my local church.
I first got hooked on technology at five when I learned how to play frogger™ on my father's computer. At twelve I wrote my first program in BASIC and have been coding ever since. It wasn't until after college that I had my first introduction to working with hardware.
Why blog?
---
Initially I didn't think there would be any interest in the projects that I have built. That was until summer of 2012. I was at a convention, giving my arc reactor replica its maiden voyage. Someone stopped me to ask about how I made it and if I had posted the instructions online. Since then I've documented everything that I think people would find interesting.
---
You can find/message me @sarif on freenode
Also checkout my GitHub you know, if you want to.

gpg
Want to donate? Why not Bitcoin?


16HEk4GG9Qehvo6MrTVkJDAPGcxbkee3Px